Select connections to add to a Custom View. This dialog is opened as one of a series on request to create a Custom View or Edit the Properties of an existing Custom View.
Search

Optionally, use the search field to search for Spotlight connections. Type text in this field. All connections matching this text in their name, type or tag will be listed.
| | |
| --- | --- |
| Name | The display name for the connection in Spotlight. |
| Type | The connection type: Analysis Services, Hyper-V, SQL Server, Azure SQL Managed Instance, Windows Server etc. |
| Tag | Tags are a free form organizational tool that may be optionally applied to Spotlight connections. See also Connection tags. |
Select
Select from the connections monitored by Spotlight. Select connections to add to the custom view. Selected connections are ticked.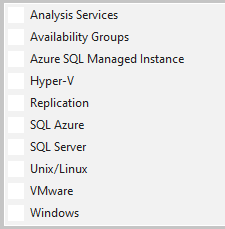 Every connection monitored by Spotlight is listed.
Selected
The Selected Connections list is a list of the connections that you have selected.
To remove a connection from this list, select the connection and click Remove.